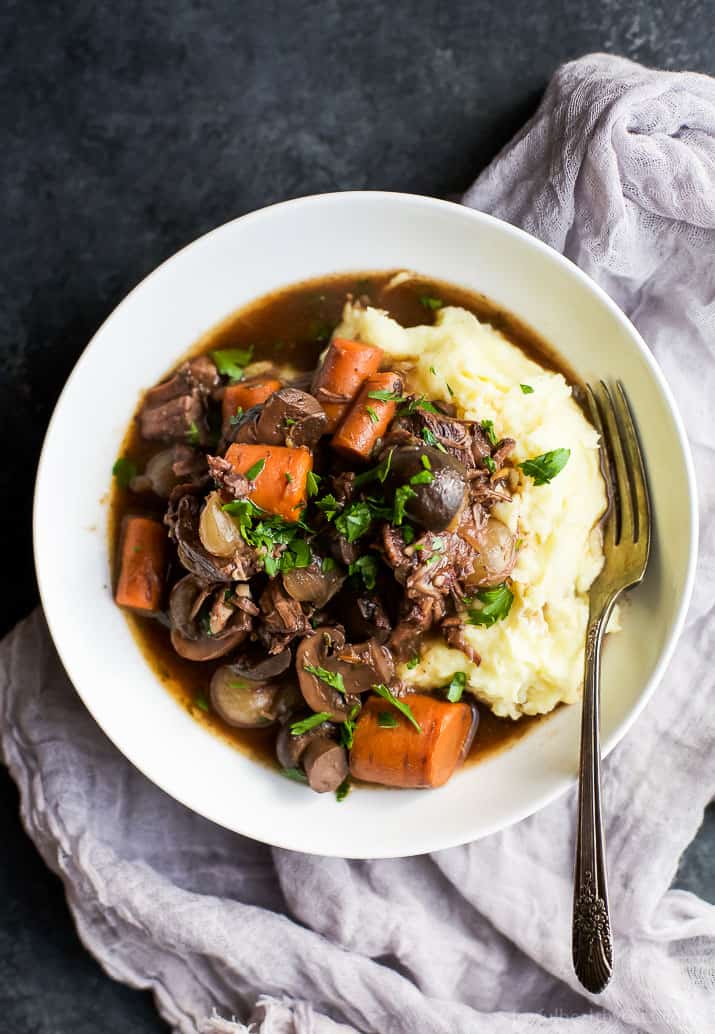 Try An Easy and Delicious French Classic with Beef Bourguignon!
This traditional French dish first created by Auguste Escoffier is an elegant and comforting meal and is one of France's most celebrated dishes. Beef Bourguignon is created with a slow-cooked beef stew in a Burgundy wine and brandy-enriched sauce. It's comes together quickly and easily and the signature ingredients in Beef Bourguignon are a one of the most classic flavors around.
Ingredients for Beef Bourguignon
To get started on your Beef Bourguignon, you will need the following ingredients:
2 tablespoons olive oil
1 lb. boneless beef chuck, cut into 2-inch cubes
2 onions, coarsely chopped
2 cloves garlic, minced
1 ½ cups Burgundy wine
1 tablespoon tomato paste
½ teaspoon freshly ground black pepper
2 tablespoons brandy
2 tablespoons all-purpose flour
1 teaspoon dried thyme
2 tablespoons fresh parsley, chopped
3 stems of fresh thyme
6-8 small red potatoes
4 carrots, cut into thick slices
2 tablespoons Dijon mustard
2 tablespoons fresh parsley, chopped
Instructions to make Beef Bourguignon
First, you'll need to preheat the oven to 300 degrees. In a large Dutch oven, heat olive oil over medium-high heat. Once the oil is hot add the beef in batches and brown on all sides. Once the beef has been browned, remove it from the pan and set aside. To the same pan, add the onions and garlic and sauté until they're softened. Add the Burgundy wine, tomato paste, and pepper and bring the mixture to a boil. Return the beef to the pan along with the brandy and flour and stir to combine. Add the thyme and parsley and place the lid on the Dutch oven. Place the beef bourguignon in the preheated oven and bake for 1 ½ hours.
After 1 ½ hours, add the potatoes, carrots, and mustard to the pan. Stir to combine and place the lid back on the Dutch oven. Bake for another 30 minutes or until the vegetables are softened. Remove from the oven and let cool for 10 minutes before serving. Sprinkle with fresh parsley before serving.
FAQs about Beef Bourguignon
What type of beef is best for beef bourguignon?
The best type of beef for beef Bourguignon is boneless beef chuck. Beef chuck is a cut of beef that has a bit of fat which helps to keep the beef tender and moist as it cooks.
What other vegetables can I add to beef bourguignon?
You can add any vegetables to beef Bourguignon. Some other vegetables that work well are mushrooms, pearl onions, celery, and butternut squash. You can also add herbs like bay leaves, rosemary, and oregano to impart additional flavor into the dish.
If you are searching about Easy Beef Bourguignon Recipe | Slow Cooker Comfort Food you've visit to the right place. We have 5 Images about Easy Beef Bourguignon Recipe | Slow Cooker Comfort Food like Beef Bourguignon Recipe [Video] – Sweet and Savory Meals and also always remain awesome: beef bourguignon. Read more: