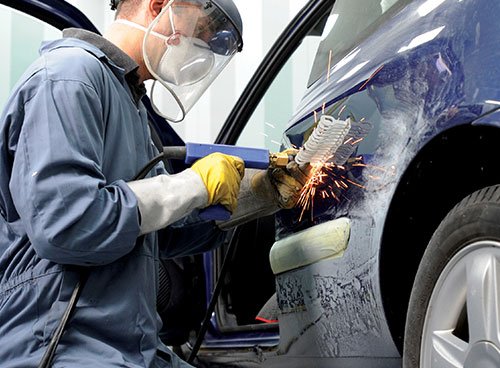 How to Make a Car Look Like New with Paint Restoration
Seeing your car look brand new again isn't as difficult as you might think. Paint restoration is a great way to make your car look like it had just rolled off the showroom floor. This is especially true if you've had the same car for years and it's looking a bit worse for wear – paint restoration can give it a great new look.
It can seem intimidating to tackle a big project like paint restoration, but with the right knowledge and supplies you can make a car look like new. Here's how to do it safely and efficiently.
Step 1: Prepare the Car
Before you start any kind of paint restoration or car detailing project, make sure to take the necessary safety precautions. That means you should make sure the car is parked away from any open flames, and wear protective goggles, a dust mask, and long-sleeved clothing.
You'll also need to thoroughly clean the car before starting the restoration process. Especially if the car has been sitting a while, you'll need to remove any dirt, grease, bird droppings, or old wax from the car's surface. You can do this with a thorough wash and dry, making sure to use a mild detergent.
Step 2: Sand the Top Layer of Paint
Once your car is clean and dry, the real work can begin. Taking a dual action sander, you'll want to start sanding off the top layer of paint. While it may seem counterintuitive to some, the sanding process is critical to properly remove the old paint and prep the car's surface for a new paint job.
Start out with a medium-grit sandpaper and work your way through to a finer-grit. As you work, be sure to sand in perfectly horizontal strokes so you avoid any odd swirls or patterns that might appear on the car's surface.
Once you're done sanding, you can use a tack cloth to get rid of any remaining dust or particles.
Step 3: Prep the Surface for Paint
When you've finished sanding the surface of the car, you'll need to prep it for the new paint. This involves giving the car a thorough wash to remove any dust and dirt that may still be present. You should also take the time to fill in any dents or scratches that might be on the car's surface.
If your car has any rust spots, you'll need to use a rust-removal product to get rid of the rust. Once you're done, you can prime the car in preparation for the paint. Be sure to use a high-quality primer designed for automotive painting.
Step 4: Preparing the Paint
Once you've prepped the car's surface, you can now start to get ready for the paint. To make sure you get the best finish possible, be sure to prime the car with a high-quality primer designed for automotive use.
Once the primer has dried, mix the paint until it's nice and smooth. Be sure to follow the instructions on the paint can – too much or too little paint thinner can lead to an uneven finish. When the paint is ready, you can start spraying it on the car's surface.
Start out with a light coat of paint, and build up several layers. Once your last coat of paint is dry, you can move on to the next step.
Step 5: Applying the Clear Coat
The final touch-up in the paint restoration process is applying the clearcoat. This will seal in the paint, give it a beautiful gloss, and prevent it from chipping or fading. This step is especially important if you want your car to look new for a long time.
To apply the clearcoat, you should use a spray-on or brush-on finish. Make sure you read the instructions for the product you're using, and follow it carefully. Give the car a chance to dry after you're done and you should have a beautiful, glossy finish that will last for years.
FAQ
Q: How do I protect my car's paint after I have restored it?
A: To keep your car's paint looking like new, make sure you regularly wash and wax your car. This will help protect the paint from sun damage, and may reduce fading over time.
Q: How often should I apply the clearcoat?
A: Clearcoat will last a while, but it should be reapplied at least once a year to keep your paint looking its best. Make sure to follow the directions of the clearcoat product you're using for best results.
If you are looking for Best Car Scratch Repair Near Me / Easy Car Scratch Repair Buffing Pad you've visit to the right web. We have 5 Images about Best Car Scratch Repair Near Me / Easy Car Scratch Repair Buffing Pad like Best Car Scratch Repair Near Me / Easy Car Scratch Repair Buffing Pad and also Pin on Car cleaning. Read more: