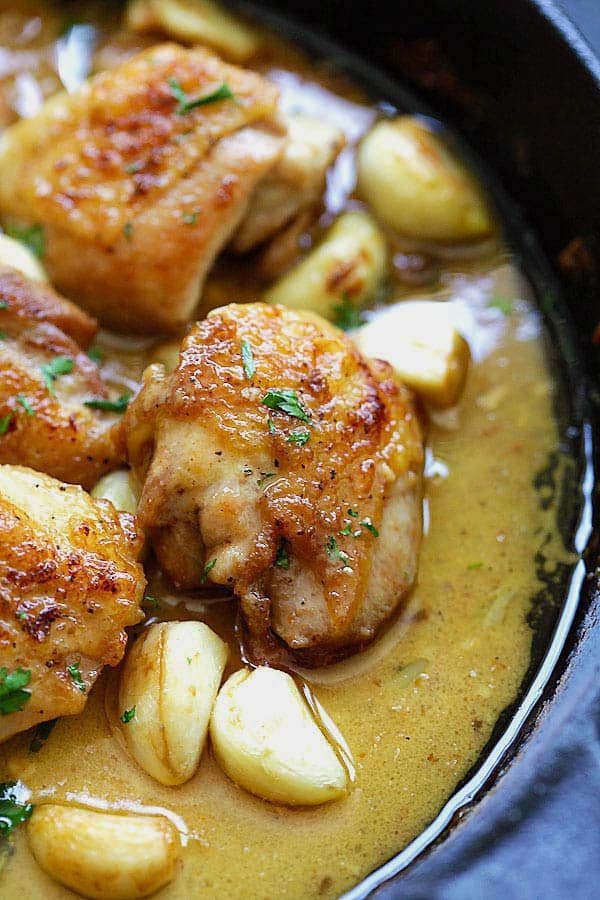 Meat-Lovin' Dishes: Easy Creamy Garlic Chicken Recipe and Crispy Chicken Tacos
For meat-lovers everywhere, here are two delicious and versatile dishes that take little time to make and can be served in a variety of ways. The creamy garlic chicken recipe is ideal for a cozy and romantic dinner at home, while the crispy tacos are an easy way to put a little tang into your usual mid-week meal.
Easy Creamy Garlic Chicken Recipe
This easy creamy garlic chicken recipe is an incredibly simple dish that can be prepared in under 30 minutes. The combination of garlic and chicken make it an aromatic and savory treat that's sure to tantalize your taste buds. The creamy sauce adds a subtle level of decadence that pairs beautifully with the flavors of the chicken. Here's what you'll need to make this delicious dish:
4 boneless chicken breasts
Salt and pepper to taste
3 cloves minced garlic
1.5 cups heavy cream
¼ cup butter
2 tablespoons of flour
¼ cup grated Parmesan cheese
To get started, preheat your oven to 350 degrees Fahrenheit. Season your chicken breasts with salt and pepper, and place them in a greased baking dish. In a separate bowl, mix together the heavy cream and garlic. Pour this mixture over the chicken breasts and sprinkle with Parmesan cheese. Bake in the preheated oven for 20 minutes.
Once your chicken is cooked through, remove it from the oven. In a medium skillet over low heat, melt the butter and mix in the flour. This will form the creamy base of your recipe. Slowly add the cream mixture from the chicken, whisking until thick and creamy. Pour the creamy garlic sauce over the chicken and serve.
Serving Suggestions
This creamy garlic chicken recipe pairs nicely with a variety of sides. For a classic presentation, serve with roasted vegetables and a side salad. For a heartier meal, add mashed potatoes or roasted potatoes and steamed vegetables. If you'd like to switch up the flavors, try pairing it with a herbed wild rice and a vegetable stir-fry. No matter what sides you choose, this flavorful chicken dish is sure to be a hit.
Crispy Chicken Tacos
This simple yet delicious recipe is an easy way to bring some bold flavors to your weeknight routine. Crispy chicken tacos come together quickly and require minimal ingredients. For best results, use boneless and skinless chicken breasts and start with a generous helping of spices. Here's what you'll need:
2 boneless and skinless chicken breasts, diced into bite sized pieces
1 tablespoon of olive oil
1 teaspoon of cumin
1 teaspoon of garlic powder
1 teaspoon of smoked paprika
1 teaspoon of chili powder
Salt and pepper to taste
6-8 tacos shells
1 cup of pre-shredded Mexican cheese
Begin by preheating your oven to 400 degrees Fahrenheit. In a medium bowl, mix together the olive oil and spices. Add the diced chicken pieces and toss to coat. Place the chicken on a parchment paper-lined cookie sheet and bake for 15 minutes or until the chicken is cooked through. Once cooked, remove from the oven and assemble your tacos.
Fill each taco shell with chicken and top with cheese. If you'd like to add some extra flavor, add a few tablespoons of guacamole or salsa. Place the tacos on a cookie sheet and bake in the preheated oven for 5 minutes or until the tacos and cheese are hot and melted. Serve immediately and enjoy.
Serving Suggestions
These tacos are a delicious option for a filling lunch or dinner. To complete your meal
If you are looking for Easy Creamy Garlic Chicken Recipe In Under 30 Minutes – Appetizer Girl you've visit to the right place. We have 5 Pictures about Easy Creamy Garlic Chicken Recipe In Under 30 Minutes – Appetizer Girl like CRISPY CHICKEN TACOS | Crispy chicken, Food, Poultry recipes and also Crispy Chicken Tacos-14 – Domestic Dee. Read more: