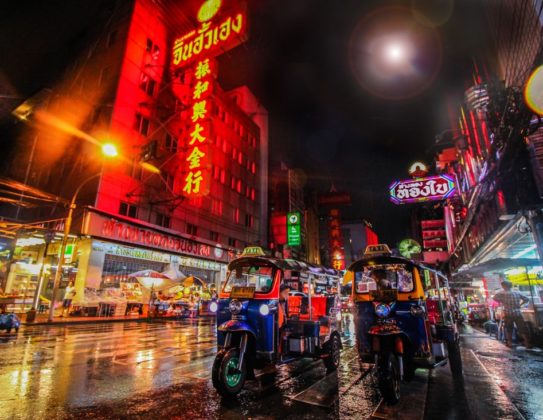 10 Creative Ideas You Can Test in Thailand
Do you have a creative idea that you have been wanting to try in Thailand? You're in luck. Thailand is the perfect country to bring your creative ideas to life. From signing up with a tour company to strike out into the wild, to finding ways to connect with locals on a deeper level, you can discover amazingly inspiring and unique experiences in this beautiful country.
1. Local Tourist Guide
Turn your sense of adventure and knowledge of Thailand into a part-time job and be a local tourist guide. You will lead guided tours in and around the large cities, such as Bangkok, Phuket and Chiang Mai, helping tourists to find the best sites and attractions. You can also guide small-group trips to remote locations, such as the nature reserves and rural villages. If you want make a little extra money, why not offer private tours? All you will need is the licence, transport and a whole lot of local knowledge.
2. Beach Stand Business
Nothing beats setting up your business right in the heart of one of Thailand's stunning beach resorts. You can rent a stand, build or buy a few tables, and then operate as a small shop or restaurant. Then, it's just a case of choosing the products or services. You will need to be creative and agile to compete with the big name stores and resorts. Pick a specific theme and offer unique products, such as handmade jewelry, art, souvenirs or a small restaurant with locally-sourced ingredients. This can be a great way to make money in the summer months.
3. Furniture Manufacturing Business
Thailand is known for its high-quality furniture products. If you have carpentry skills, you could use them to create beautiful and unique pieces. This can be a great business opportunity in Thailand, as people from all over the world prefer to buy unique and custom made furniture. You could turn your hobby into a full-time career or even use it as part time income to supplement your existing career. The great thing about this business idea is that you can do it in your spare time without having to invest too much in the set-up.
4. Outdoor Adventure Company
If you're an expert in the outdoors, then this could be the business of your dreams! You can bring people to the wilderness and nature meccas in Thailand, while teaching them all sorts of activities, such as mountain biking, trekking and kayaking. Now, you have to have a great deal of knowledge to share (and hold a certificate confirming this), but if you do, you can create a truly bespoke adventure experience for your customers.
5. Travel Agency
Thailand is a popular destination for travellers, so why not use your knowledge to help people make their trip even better? You can set up a travel agency and specialise in the finding the best flights, accommodation and activities for people who are visiting the country. The trick here is to find the right contacts, understand the local market and sustain the needed marketing.
6. Produce Seller
Starting a business selling locally sourced produce can be an exciting and profitable venture. You can source organic vegetables, fruits, herbs and spices from local producers and farmer's markets and supply them to restaurants, hotels, stores and shops in the area. If you source the right produce and build up a good network, this could become a thriving business in no time.
7. Online Store
The internet continues to open up new opportunities for entrepreneurs. Turn your creative idea into an online store and you could benefit from reaching customers both in Thailand and abroad. You could sells almost any type of product or services and have your idea shipped to destination without leaving your home office.
8. Webshop
With no inventory cost, no physical store and low overhead, creating a web shop in Thailand is an attractive business option. You can use either an existing platform or create a custom shop. The benefits of an online store include lower costs, faster turn-around times and access to global markets.
9. Home-Style Restaurant
Nothing beats the comfort and ambience of a home-style restaurant. This can be a great business opportunity for
If you are searching about 18+ Best Small Business Ideas in Thailand 2021 – Startup Ideas you've visit to the right place. We have 5 Pictures about 18+ Best Small Business Ideas in Thailand 2021 – Startup Ideas like 18+ Best Small Business Ideas in Thailand 2021 – Startup Ideas and also The sculptor, Gutzon Borglum, redefined the project entirely. Using. Here you go: