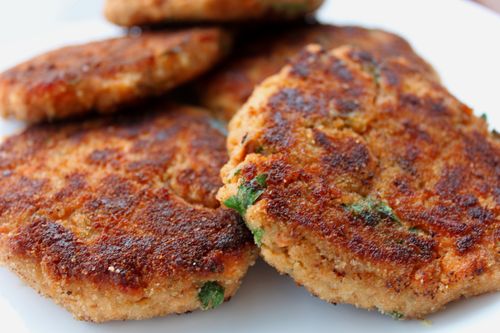 Craving For Something Delicious? Make Easy Salmon Patties To Satisfy Your Taste Buds
Are you looking for a delicious and easy-to-make meal that also packs quite a punch in terms of health benefits? Look no further than salmon patties! This savory recipe combines all-natural fish like salmon with savory spices to create a hearty meal that will leave you feeling satisfied. Plus, salmon is loaded with omega-3 fatty acids, which are great for your health! So if you're feeling a bit peckish, why not whip up a batch of mouth-watering salmon patties?
Gather The Ingredients To Make Salmon Patties
These versatile patties can be made with a variety of ingredients, so feel free to experiment and make them to your liking. But no matter what you choose to include, the base ingredients of these patties are always the same. Here's what you'll need to make salmon patties:
7-8 ounces of cooked salmon (canned or cooked from fresh will work)
½ cup of bread crumbs
2 eggs
2 tablespoons of fresh parsley
2 tablespoons of lemon juice
Salt and pepper, to taste
1-2 tablespoons of olive oil
Instructions For Making Delicious Salmon Patties
Once you've gathered all of your ingredients, it's time to get cooking! Here's how you make these easy salmon patties in just a few simple steps:
In a large mixing bowl, combine the cooked salmon, bread crumbs, eggs, parsley, lemon juice, salt, and pepper. Use your hands or a spoon to mix everything together until it's well-combined.
Form the mixture into small patties (about 3-4 inches in diameter). Place the patties on a plate or tray while you heat the olive oil in a pan over medium heat.
Once the oil is hot, add the patties to the pan and cook for about 5 minutes (or until they are golden brown). Flip the patties and cook for another 5 minutes on the other side.
Serve your salmon patties with your favorite sides and enjoy!
Frequently Asked Questions About Salmon Patties
Q: What are some other ingredients that I can use to make salmon patties?
A: You can use a variety of ingredients to make salmon patties. You can try adding different spices and herbs to the mixture or adding ingredients like diced onions, garlic, or celery. You can also switch up the type of fish you use. Other types of fish that work well in this recipe include tuna and mackerel.
Q: How long do salmon patties last in the fridge?
A: If stored properly in an air-tight container, salmon patties will last for 3-4 days in the fridge. If you are planning to keep the patties for longer than that, it's best to freeze them. When stored in the freezer, salmon patties will last for up to 3 months.
If you are searching about Crunchy Salmon Cakes you've came to the right page. We have 5 Pics about Crunchy Salmon Cakes like Salmon Patties Recipe (VIDEO) – NatashasKitchen.com and also Salmon Patties Recipe (VIDEO) – NatashasKitchen.com. Here it is: