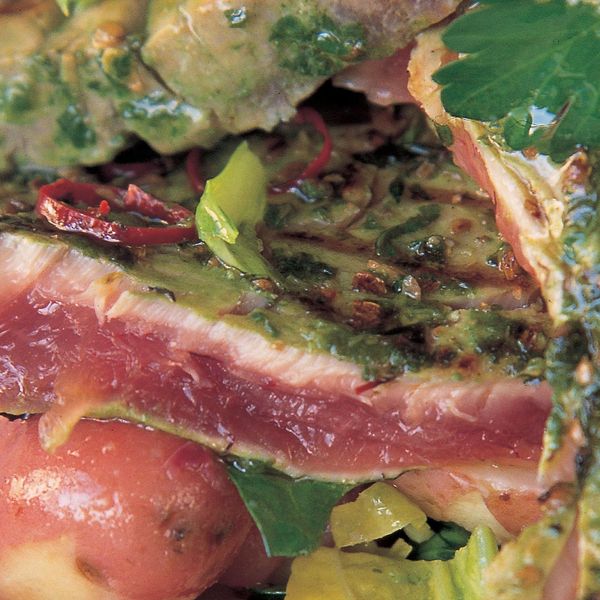 The Ultimate Guide to Making Jamie Oliver's Seared Sesame Tuna Steak
Are you looking for a delicious, nutritious meal that's both easy to make and packed with flavor? Look no further than Jamie Oliver's seared sesame tuna steak! This is a great alternative to traditional beef, chicken, and pork dishes, as it packs a healthy punch of proteins, omega-3 fatty acids, and other vitamins and minerals.
What You'll Need
Before you begin, make sure you have the following ingredients on hand:
1 pound of sushi grade tuna steak
2 tablespoons of sesame oil
1 teaspoon of freshly grated ginger (optional)
2 cloves of garlic
1 teaspoon of sea salt
Black pepper, to taste
1 teaspoon of brown sugar
A pinch of ground cumin (optional)
2 tablespoons of sesame seeds
Instructions
Heat a large non-stick skillet over high heat.
Add the sesame oil and garlic and cook for 30 seconds until fragrant.
Add the tuna steak and cook on one side until it's seared, about 4-5 minutes.
Turn the steak over and season with the salt, pepper, brown sugar and cumin (if using).
Cook the steak on the other side until it's seared and cooked to your desired doneness (about 2-3 minutes for medium rare).
Sprinkle the sesame seeds over the steak and let cook for an additional minute.
Serve with a side of the Healthways to use beans recipe suggested by Jamie Oliver.
FAQ
What kind of tuna steak should I use?
It's essential to use sushi grade tuna steak for this recipe. Sushi grade tuna steak is fresh, raw, and of higher quality than regular tuna steak.
Can I make this recipe without the cumin?
Yes, you can make the recipe without the cumin, but it will lack an earthy depth of flavor. If omitting the cumin, you may want to include an extra teaspoon of brown sugar instead to help balance out the flavors.
If you are searching about Jamie Oliver's Seared Tuna Steak with Fresh Coriander and Basil you've came to the right web. We have 5 Images about Jamie Oliver's Seared Tuna Steak with Fresh Coriander and Basil like Jamie Oliver's Seared Tuna Steak with Fresh Coriander and Basil and also Jamie Oliver's Seared Sesame Tuna Steak. Read more: